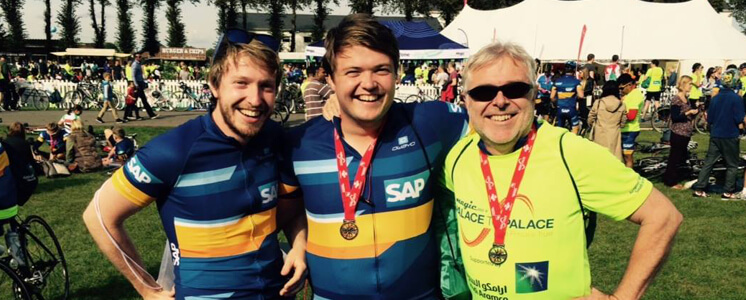 Blue Box staff have raised hundreds of pounds to help better the lives of young people.
Owner Martin Aldrich and employees James and Matthew Aldrich donated £450 to The Prince's Trust this month after taking part in a charity challenge to cycle 45 miles.
On Sunday, October 5, the trio joined hundreds of other people as they pedalled their way from Buckingham Palace to Windsor Castle in the annual Palace to Palace race.
James, who works in the Farnborough branch, said: "The Prince's Trust does an important job helping and supporting young people, which is why we were keen to get involved.
"It's essential that we can ensure everyone in the world can have equal opportunity to have a good, healthy life, which is what the Trust aims to do."
The trio, who were also joined by Blue Box customer Alistair Hughes, started preparing for the race in May by cycling twice a week, building up to 40 miles in one ride.
Martin commented: "Blue Box gives donations to many charities and good local causes, but for us to get involved with the Palace to Palace race was a different challenge. Having to train and put the effort in to get sponsorship was very rewarding."
Speaking about the day itself he added: "It was fantastic. The weather was kind to us and to see the amount of people involved was great. To finish the challenge in under our personal goals was the icing on the cake."
Martin and Alistair completed the ride in 3hrs 17mins while James and Matthew crossed the finish line in 2hrs 52mins.